About DELMIAworks
DELMIAworks, previously IQMS, offers an integrated ERP and manufacturing system that covers nearly all the functions necessary for running a factory floor. The application offers total control over all aspects of the manufacturing operation, from supply chain management to manufacturing processes, as well as scheduling, payroll, and accounting.
Manufacturing ERP provides users with a single, unified user interface from which a wide range of manufacturing functions can be controlled. The application also features cost analysis tools to help manufacturers drive ROI across the business, end-to-end.
Manufacturing ERP features Oracle database and Microsoft Office integration. There is also a customizable ROI, and solutions can be further tailored to suit unique operations, in consultation with DELMIAworks.
---
Key benefits of DELMIAworks
• Integrate multiple systems in Manufacturing ERP to lower costs.
• Manage all aspects of business from a single interface, with total oversight of ROI across the board.
• Receive streamlined updates for all systems at regular intervals.
• Identify inconsistencies with real-time monitoring and detailed reporting.
• Find specific problems and troubleshoot them quickly with Manufacturing ERP.
---
Images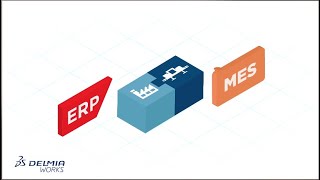 Not sure about DELMIAworks?
Compare with a popular alternative
QuickBooks Desktop Enterprise
#1 Alternative to DELMIAworks
QuickBooks Desktop Enterprise is an accounting software for small businesses which provides users with real-time access...
Epicor Advanced MES
#2 Alternative to DELMIAworks
Improve quality, reduce scrap, and boost product throughout with MES software from Epicor. A manufacturing execution...
Global Shop Solutions
#3 Alternative to DELMIAworks
We simplify your manufacturing. Experience real-time inventory accuracy, increased on-time delivery and lower administra...
PleX Travel Suite
#4 Alternative to DELMIAworks
PleX Travel Suite is a cloud-based platform designed to assist travel agencies and hotels with trip planning and...
---
Already have DELMIAworks?
Software buyers need your help! Product reviews help the rest of us make great decisions.
Showing 5 reviews of 288
Overall rating
Ease of Use

Customer Support
EnterpriseIQ - The Ultimate ERP Solution
Reviewed on 28/06/2010
I would highly recommend EnterpriseIQ. The staff at IQMS is a pleasure to work with and extremely...
I would highly recommend EnterpriseIQ. The staff at IQMS is a pleasure to work with and extremely accessible. IQMS listens to their users and allow them to have a great amount of input into enhancements to EnterpriseIQ. When there is a question as to how users feel about an enhancement that another user suggests, it is put to a user vote. This is done online so that users don't have to wait until a user group meeting to vote. IQMS hosts Users Group meetings that are very informative and helpful for networking with other users. With many tools that IQMS has provided to their users, users can easily pose questions to a user forum and get a quick response. EnterpriseIQ is a great ERP solution that should not be passed by!
Pros
EnterpriseIQ provides a full ERP system including a payroll module. There is no need to use 3rd party software to transfer/link labor time & attendance to payroll. MRP is easy to use and provides users with real-time availability and requirements through the use of finite scheduling. Powerful reports can be created through the use of Crystal Reports. Files can be linked with ease providing users with exactly what they want/need to be on "their" custom report. Bill of Materials are complete as they contain cycle time, labor, work center and materials required. A Preventative Maintenance module can track Tooling and Equipment usage and generate service work orders based on cycle counts or routine tasks. Each module allows attachment of documents, either Internal notes or External documents maintained through their Quality Module in Document Control. IQMS provides excellent customer support and welcomes user input as to the development & enhancement of their software.
Cons
The only issue that we have had with EnterpriseIQ is trying to integrate biometric fingerprint readers to use as our means of collecting attendance. The time clock capture is easy to use, however, there is no way to validate if an employee is clocking themselves in/out and/or a co-worker in/out.
Industry: Plastics
Company size: 51–200 Employees
Used

Daily

for

2+ years

Review Source
Overall rating
Value for Money

Ease of Use

Customer Support

Likelihood to recommend

6.0

/10
IQMS can be a powerful tool for maintaining the information and processes that drive a...
Reviewed on 1/11/2017
IQMS might benefit from better scaling on their pricing to encourage deeper adoption of the...
IQMS might benefit from better scaling on their pricing to encourage deeper adoption of the software. The more heavily integrated a business is with IQMS, the less likely that business is to switch to using a competing software solution.
Pros
The features that IQMS has are all fairly well developed and mature. Support staff can be incredibly helpful and knowledgeable. There are a wide array of software modules with highly configurable settings to cover most production situations for a diverse array of firms.
Cons
IQMS implementation specialists can leave a lot to be desired. Many essential features of our install were never configured or were configured incorrectly. To that extent IQMS is highly reliant on companies having individuals with high aptitudes for trouble shooting and problem solving. If your company has this sort of talent, it can be an incredibly helpful software suite. Without that baseline expertise or talent, IQMS can hurt more than it helps. Additionally, the licensing for IQMS is quite expensive, which can make implementing the full range of software impossible. For some companies, modules like RealTime Production monitoring will never be cost effective, and other software features of IQMS are hamstrung by an absence of crucial pieces like RealTime. Because of the way that IQMS' business logic is designed, businesses will necessarily need to make some changes to the way they operate to bring them more into line with the best practices set up by IQMS. Unfortunately, the exact nature of these best practices and the gaps in an individual business' adoption of these best practices is not well specified by IQMS.
Overall rating
Ease of Use

Customer Support
IQMS: the silver bullet of ERP software?
Reviewed on 27/07/2010
Getting IQMS will be like hiring the most productive IT person(s) you've ever seen.
IQMS will not...
Getting IQMS will be like hiring the most productive IT person(s) you've ever seen.
IQMS will not solve all your problems, just most of them.
And as your business grows and your needs change, you will likely be pleasantly surprised to discover that IQMS has the depth and robustness to grow with you.
Take your time and make sure you define your needs/wants well. Imagine both the scenarios of bad economy and 50% drop in your sales, and then good economy and 50% increase in your sales. What's your annual maintenance cost, and license pricing going to be? Be sure to do the math, and buy only what you need, and what you (and your employees) will actually implement and use.
IQMS is flexible and helpful with this. Unlike others, my experience is that IQMS will undersell you (i.e. talk you into buying less now, and more later, rather than all now). Listen to their advice.
Pros
Customer service oriented.
Robust, feature rich, fault tolerant, scalable, flexible.
Quick right click jump features everywhere.
Lots of customization possibilities.
Many automation options from order entry (EDI) to real time scheduling on the floor, to labeling and shipping out the door.
Crystal Reports and regularly scheduled Alerts Server allows granular management by exception as needed (this combo comes close to being your silver bullet).
Integrated EDI solution, serialization, bar code scanning, real time workstation monitoring (no 3rd party complications).
Getting to appropriate support level for your problems is better than most software companies. IQMS will engage you at multiple levels in a variety of ways to try to meet your needs: online docs, webinars, emails/calls to support or the users group, plus online training and/or consulting options at additional cost.
Cons
No real cons that wouldn't apply generally to all other ERP software (for example, the cost of annual maintenance and license pricing model, better tools for monitoring license usage, cumbersome security, and the upgrade process).
You do need at least one full time in-house "champion."
Most of our issues with IQ tend to be self-inflicted and usually come from our internal lack of proper understanding of the appropriate use of the program, and/or real world constraints (for example, "do you want it under budget or on time?"). As with any software support, sometimes you must patiently ask complicated questions a couple of different ways before you both reach a mutual understanding of each other's positions.
Used

Daily

for

2+ years

Review Source
Overall rating
Value for Money

Ease of Use

Customer Support
If users are prepared to put in the upfront work into IQMS it will be a great asset to your...
Reviewed on 15/09/2017
Pros
The depth and breadth of the program is impressive. I like the flexibly of use from a small section of manufacturing process, to using it fully from quoting, production and quality testing. Consistency but continued expansion of the IQMS program is appreciated (I am a user since 2004). Help desk can be very responsive when it comes to problems/questions arising. If it is a major problem they will `take you by the hand solve it with you. With the interface I appreciate the ability to jump from window to window to window. I also appreciate it is a multi-window program.
Cons
The structure of the database not being directly linked to the naming scheme of the interface can be frustrating when creating reports or finding problems. The structure of security section is hard to manage (groups and sections instead of individual profiles and direct security approvals). Not being able to easily substitute alternative items in the BOMs/Work orders can be a hindrance to accurate consumption. Also the structure of the consumption can be awkward.
If a change is needed to the program a committee gathers once a year to vote on the focus of the upgrades and improvements, is the process to update errors to the computer system, instead of a more instant solution (though if it is obvious they will fix it sooner).
Overall rating
Ease of Use

Customer Support
IQMS ERP Review
Reviewed on 31/08/2010
We are very satisfied with our decision to implement IQ. After an intense benchmarking/evaluation...
We are very satisfied with our decision to implement IQ. After an intense benchmarking/evaluation process, IQ finished far above other options. We implemented all mission critical business processes in a very short 5 months given the number of data bases we were using to run our business. I frequently remark that there are 2 or 3 ways to accomplish a task/objective utilizing IQ and our responsibility is to select the method that works best for our current systems/processes. This still holds true today as we continue to expand implementation of the existing modules IQ has to offer while concurrently incorporating new functionality typically recommended by the User community and incorporated into the software via frequent updates.
In many respects, we have only scratched the surface of what IQ has to offer. As our business grows and requirements change, were confident that we selected the best software provider available to help us accomplish our objectives.
Pros
IQ is a feature rich/constantly evolving ERP system-handling mission critical/multi-plant business processes, eliminating multiple points of data entry and the associated errors
IQAlert e-mailed exception reports-employees can focus on meeting customer needs
EDI is fully integrated, not a third party solution-allowing us to work as part of a team with IQ and our customers to improve performance results
WMS insures data integrity-provides instant visibility to inventory, enabling employees to virtually eliminate product/quantity shipping errors
MRP engine is like greased lightning-IQAlert scheduled 6 times/day-runs in < 3.5 minutes
Capable to Promise-enables us to provide information to customers during initial contact vs call back later
IQ User Group-refreshing collection of super users sharing knowledge/experience
IQ employees from top to bottom-knowledgeable, very receptive to requests for software enhancements if ultimately the best solution
Cons
Employees that are not fully engaged sometimes have difficulty understanding and/or utilizing the efficiencies inherent in IQ. However, several cost and time effective training options are available that range from learning basic navigation/software capability skills thru expanding knowledge of application specific IQ functionality.
Security Administration can be fairly complex and cumbersome to maintain, especially after software updates although there has been recent improvement in this area.
DELMIAworks FAQs
Below are some frequently asked questions for DELMIAworks.
Q. What type of pricing plans does DELMIAworks offer?
DELMIAworks offers the following pricing plans:
Starting from:
Free Trial: Not Available
Please contact DELMIAworks directly for pricing information.
Q. Who are the typical users of DELMIAworks?
DELMIAworks has the following typical customers:
2–10, 11–50, 51–200, 201–500, 501–1,000
Q. What languages does DELMIAworks support?
DELMIAworks supports the following languages:
Chinese, Czech, Dutch, English, French, German, Irish, Italian, Spanish, Traditional Chinese
Q. Does DELMIAworks support mobile devices?
DELMIAworks supports the following devices:
Q. What other apps does DELMIAworks integrate with?
DELMIAworks integrates with the following applications:
Microsoft 365, Oracle Eloqua Marketing Automation
Q. What level of support does DELMIAworks offer?
DELMIAworks offers the following support options:
Email/Help Desk, FAQs/Forum, Knowledge Base, Phone Support, Chat
Related categories
See all software categories found for DELMIAworks.